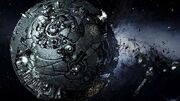 Cybertron is the home planet of the Transformers and (usually) the body of their creator, Primus. Cybertron is a shining metal, technological world; a planet of towering future cities without end and vast metallic plains, spiraling metal mountains and bottomless neon-lit chasms. Battling over control of Cybertron and its resources is frequently the motivation for, or origin of, the Transformers' epic wars.
Ad blocker interference detected!
Wikia is a free-to-use site that makes money from advertising. We have a modified experience for viewers using ad blockers

Wikia is not accessible if you've made further modifications. Remove the custom ad blocker rule(s) and the page will load as expected.