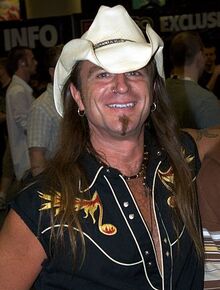 Scott McNeil (born September 15, 1962) is an Australian-born Canadian voice actor. Some of his most notable roles include Bonesteel from Saban Entertainment's Ninja Turtles: The Next Mutation, Cobra Commander from G.I. Joe: Sgt. Savage and his Screaming Eagles, Wolverine from X-Men: Evolution, Ace the Bat-Hound from Krypto the Superdog, Ken Masters from the Street Fighter animated series, Proto Man and Dr. Wily from the Ruby-Spears Mega Man series, Dr. Wily again for the Mega Man: Upon a Star OVAs, and oh so many more.
In the world of dubbing, McNeil has played such characters as Piccolo from the original English dub of Dragon Ball Z, Hohenheim of Light from Fullmetal Alchemist, Duo Maxwell from Gundam Wing (a voice that sounds almost identical to Rattrap's), and Koga from InuYasha.
He is an extremely prolific performer and an incredibly popular guest at Transformers and anime conventions.
Voice roles
Edit
Beast Wars Edit
Tarantulas (portions of "Other Voices, Part 2")
Packrat (script reading)
Vice Grip (script reading)
Beast Wars Transmetals Edit
Waspinator
Rattrap
Silverbolt
Beast Machines Edit
Waspinator
Rattrap
Silverbolt
Ad blocker interference detected!
Wikia is a free-to-use site that makes money from advertising. We have a modified experience for viewers using ad blockers

Wikia is not accessible if you've made further modifications. Remove the custom ad blocker rule(s) and the page will load as expected.